!BODY BGCOLOR="#fffe80" TEXT="#000000" LINK="#0000FF" VLINK="#FF0000"> <!BODY BGCOLOR="#ddFFdd" TEXT="#000000" LINK="#0000FF" VLINK="#FF0000">

<!BODY TEXT="#4f0301" LINK="#FFF8DC" VLINK="#ff0000" BGCOLOR="#fffe80">

</P>
---



REPTILES AND AMPHIBIANS IN CAPTIVITY -
BREEDING - HOME PAGE

Index

Welcome to our web page.

These pages contain longevity & breeding information from:

236 INSTITUTIONS
425 PRIVATE COLLECTIONS
661 TOTAL REPORTING
---
BREEDING - INDEX
Go to:
About this page.

HELP this page.
Salamanders

Frogs and Toads

Turtles, Crocodilians, and Tuatara

Amphisbaenia and Lizards

Snakes

Code page (Names and addresses).

Current status of this page

Policy change for names and addresses.
---
Index

Go Top
Breeding Home Page. -
Longevity Home Page. -
Frank and Kate's Home Page
---
help! Help! Help! Help!: To find a species you must know the genus which the animal is in.
If you do not know the genus and only know the common name select a genus and go to it. You may then page up and down the page looking at the common name of the species species you are searching.
When you get to the bottom of the page hit the "go next page button" and do the same thing again.
---
Index

Go Top
Breeding Home Page. -
Longevity Home Page. -
Frank and Kate's Home Page
---
About this page:
This longevity page is a link from
Frank and Kate's Home Page which contains additional items of herpetological interest and
Breeding Home Page - .
Our interest is in the long term maintenance and breeding of reptiles and amphibians in captivity. We plan to provide you with longevity records for all species of reptile or amphibian. In our book we only have room to list the top two longevity records. Here on the web we can list many more. Because the records span over many years and because some wish to remain anonymous, a few of the addresses and phones may be out of date.
This is a long-term ongoing project. We need more information to update these records to the levels where they should be. If you have any animals which you feel might be a record, please let us know We hope more private collectors will respond when they see the advantages of collected information as is presented here. Your information, can be included. We have recently changed our policy on listing of names and addresses. Please send in your information and encourage others you know to also list.
It is important to know a couple of quick things for these pages to make sense. Indexes are by genus. The data, listed by species, with the the code (name and/or address) and then the number of years, months, date acquired, wild or captive born, adult or juvenile, sex, and living or dead.
If you are having trouble keeping track of your animals you might be interested in our software program Animal TRACKS. Tracks has been running since 1986 and will manage any type of animal collection.
We solicitet your feedback for what works, what doesn't work, or comments about how this web page should work.
Please send us e-mail : our address is: slavens@halcyon.com or FAX 206 546 2912
---
Index

Go Top
Breeding Home Page. -
Longevity Home Page. -
Frank and Kate's Home Page
---
Policy change for listing names and addresses.
In the past, by default we listed complete address and phone for all breeders. When this breeding information moved to the web page we decided not to list private breeders' names and addresses. Instead of full addresses we list only the person's name and country.
Conversations with breeders over the years about reasons why they are reluctant to respond included several comments revolving around fear of strangers knowing where they live. This is understandable and is a difficult bridge to cross. As a compromise to allow more breeders to respond, they may now remain as anonymous as they wish. A minimum preference would be to list their name and country. In the future, by default, we will only list the person's name and country. If you wish to have more information listed just drop us a note and we will list whatever information you want.
Some examples would be: from best to worst.
(A) Name, Address, City, State, Zip, work phone, home phone, fax phone, e-mail.
(B) Name, City, State, Zip, work phone, home phone, fax phone, e-mail.
(C) Name, State, Country, phone.
(D) Name, Country.
(E) Name.
(E) Country.
Pick one of the above formats or make up your own. Please send your information, today.
WE ENCOURAGE EVERYONE TO LIST THEIR FULL NAMES AND ADDRESSES, ETC. REMEMBER YOU MUST LET US KNOW IF YOU WANT MORE THAN YOUR NAME AND COUNTRY TO BE LISTED.
---
---
Index

Go Top
---
---
Frank & Kate Slavens
P.O. Box 645
Lyle, WA 98635


To send Frank or Kate an e-mail, our addresses are: frank@pondturtle.com or kate@pondturtle.com


Pages first went up in October 1995.

Copyright &copy 1996, 1997, 1998,1999, 2000, 2001, 2002, 2003 Frank Slavens

---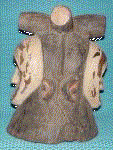 ---