<!BODY BGCOLOR="#fffe80" TEXT="#000000" LINK="#0000FF" VLINK="#FF0000"> <!BODY BGCOLOR="#ddFFdd" TEXT="#000000" LINK="#0000FF" VLINK="#FF0000"> <!BODY BGCOLOR="BBDDEE" TEXT="#000000" LINK="0000FF" VLINK="#FF0000"> <! YELLOW !BODY BGCOLOR="#FFF8DC" TEXT="#000000"> <! Green ! BODY BGCOLOR="#ddFFdd" TEXT="#000000">

"From the Ponds"
Vol. 2 No. 3 - June 5, 2000

Western Pond Turtle- Main Page
From the Ponds Main Page.
FROM THE PONDS

The Bimonthly Electronic Newsletter of the Western Pond Turtle Project in Washington State

By Kate Slavens
Vol. 2 No. 3 – June 5, 2000
Editor: Kate Slavens
Vol. 2 No. 3 – 5 June 2000 Editor: Kate Slavens
IT'S BEEN A WHILE, BUT THIS IS A BUSY TIME. The fieldwork is the main focus of the project at this time. We began the trapping on April 5, and the totals are: 135 captures from Klickitat County and 44 from Skamania County. I expect 20-25 are recaptures. A total of 24 female turtles were transmittered, but only 18 of those transmitters are still working. The manufacturer has a "lot of 'splainin' to do. As of this date, only one female has attempted to nest, but has hit rocks three times. Maybe the fourth time will be the charm, and hopefully, we will get it. But it does look like I'll be on my hands and knees all over the 160 acres to find nests that we will miss. One way or another, we will get enough turtles to fill up the head-start spaces at Woodland Park Zoo and the Oregon Zoo. One bright spot is that two females from two nests in 1990 are now adults and have transmitters that are still working and are basking as much as other adult females and may nest this year. They can prove that the head-starting really works.
ONE OF OUR FEMALES will be retired this year. She was found near a road, with an extreme injury to one of her forelegs. She was taken to the Woodland Park Zoo and got a proper clean amputation, antibiotics, and tender care and is doing very well. She was a perennial double clutcher and has given us many hatchlings, earning a rest, in spite of the fact that females with missing forelegs can nest just fine. She may now have a strong addiction to pinkies (newborn mice), but we think she should live out her last years in her home lake with familiar surroundings. There are a few other girls who are nearing their retirement too.
IT IS WITH EXTREME PLEASURE that I welcome six new volunteers from the Oregon Zoo at the Skamania site. The generosity of these people will be greatly appreciated, both for their work in the field and their ability to promote the project at their zoo. We will need all their eyes and ears to locate turtles nesting, as well as their telemetry skills. We also have new volunteers at the Lakewood site and hopefully they will be able to document nesting from those head-started females.
ANOTHER BRIGHT SPOT is that one of our volunteers earned a special award in May. Yes, Frank Slavens was given the "Good Deed Award" at Dick's Drive In. He was chosen for his work on this project. And what did Frank win? He won a $20 gift certificate for Dick's hamburgers, a case of frozen milk shakes, and a six-pack of Coke. They also donated $100 to the project and posted his picture in their stores for HIS week. Thank you to Dana Payne for nominating him. Good thing Frank has been a loyal customer of Dick's for as long as he can remember the existence of Dick's. It's nice to know someone will cook for him when I'm down at the study site.
FRANK AND I MET with the Oregon Working Group in April to start working on "A Conservation Strategy" for the western pond turtle which hopefully will include Washington, Oregon and California. No matter how many of the turtles we still have in our states, at least 90% are now gone and this is a cause for great concern.
I WOULD REALLY LIKE FOR SOME OF YOU to feed me some information that I can include in this newsletter. It would be nice to get information from the other parts of the project, even other states. What's happening out there?
THE NEXT NEWSLETTER will come after July 15, the end of the nesting season.finally put turtles outside at least for part of the year. LASTLY, a promise. I promise to produce this newsletter on a more regular basis than last year. Expect the next installment in March.
---
---
Index

Go Top
---
---
Frank & Kate Slavens
P.O. Box 645
Lyle, WA 98635


To send Frank or Kate an e-mail, our addresses are: frank@pondturtle.com or kate@pondturtle.com


Pages first went up in October 1995.

Copyright &copy 1996, 1997, 1998,1999, 2000, 2001, 2002, 2003 Frank Slavens

---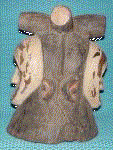 ---