<!BODY BGCOLOR="#fffe80" TEXT="#000000" LINK="#0000FF" VLINK="#FF0000"> <!BODY BGCOLOR="#ddFFdd" TEXT="#000000" LINK="#0000FF" VLINK="#FF0000"> <!BODY BGCOLOR="BBDDEE" TEXT="#000000" LINK="0000FF" VLINK="#FF0000"> <! YELLOW !BODY BGCOLOR="#FFF8DC" TEXT="#000000"> <! Green ! BODY BGCOLOR="#ddFFdd" TEXT="#000000">

"From the Ponds"
Vol. 2 No. 1 - January 11, 2000

Western Pond Turtle- Main Page
From the Ponds Main Page.
FROM THE PONDS

The Bimonthly Electronic Newsletter of the Western Pond Turtle Project in Washington State

By Kate Slavens
FROM THE PONDSÖ
The Bimonthly Electronic Newsletter of the Western Pond Turtle Project in Washington.
Vol. 2 No. 1 - 11 January 2000
Editor: Kate Slavens
ITíS A NEW YEAR and a new field season to plan for. With any luck, being an even numbered year, the weather will be more cooperative. Itís strange how that works.
THE BUDGET continues to hold strong, although a new release site in western Skamania County will add more expenses. We are trying to work that in and hopefully find a little more money to cover it completely. Donations from Turtle Island Foods helped with the costs of the wanted poster and one from Giovanni Fagioli from t-shirt sales in Nevada and the captive-breeding expo in October have finally covered the original expenses for the production of the t-shirts. Thanks!
ALTHOUGH IT IS WINTER in the gorge, there is still some fieldwork. We have put temperature sensors down in the ground with eight of the transmittered females who have chosen to hibernate on land this year. It will be interesting to compare their temperatures with those from sensors in the bottoms of two of the ponds. Sixteen transmitters have been ordered so we can replace those on these females before they return to the water. More will be ordered to be ready for our usual April 1st start. Iím still in the process of putting all of last yearís data into the computer but the end is in sight. We captured more turtles in our traps last year than were in the entire population in 1990. A meeting planned with the Department of Fish & Wildlife in the next couple of weeks will set our goals and priorities for this year.
THE TURTLES being head-started at Woodland Park Zoo are all doing well. The Oregon Zoo received 22 of the wild-bred hatchlings, which leaves 50 at WPZ plus 5 captive-bred turtles. The total for 1999 was 77. Our goal is to fill up both facilities to capacity in 2000.
I HAVE GOOD NEWS AND BAD NEWS about our volunteers. The good news is that Paula and Giovanni Fagioli are now proud parents of little Marco, born December 16, 1999. The bad news is that Dana Payne was in a motorcycle accident and had to say goodbye to his left foot as a result. Thank goodness wooden pegs are out and titanium is in. It may take a couple of years for Paula and Dana to hit the trails again, but weíre hoping it wonít be longer than that. Our volunteer meeting will be held on the evening of Sunday, February 6 at 6:00 p.m., again at the Slavens house. For more information, you can E-mail us or call at 206-542-6751. Please look at your 2000 calendars and come.
THE WANTED POSTERS are done, back from the printer and ready for distribution. Any persons receiving this can get a copy by E-mailing us or writing to us with your full mailing address. We could not have done this without the generous grant from AZA.
OUR FIRST TEACHERíS WORKSHOP will take place at Woodland Park Zoo on February 12. I think most or all of the text has been written and is ready for printing. Katie Remine, at the Education Dept. of WPZ is an exceptional writer and deserves all the credit for the packet of information that will be given out to all who participate.
THE NEXT NEWSLETTER is scheduled for the first week in March. See you then.
---
---
Index

Go Top
---
---
Frank & Kate Slavens
P.O. Box 645
Lyle, WA 98635


To send Frank or Kate an e-mail, our addresses are: frank@pondturtle.com or kate@pondturtle.com


Pages first went up in October 1995.

Copyright &copy 1996, 1997, 1998,1999, 2000, 2001, 2002, 2003 Frank Slavens

---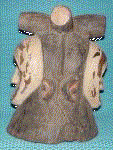 ---