<!BODY BGCOLOR="#fffe80" TEXT="#000000" LINK="#0000FF" VLINK="#FF0000"> <!BODY BGCOLOR="#ddFFdd" TEXT="#000000" LINK="#0000FF" VLINK="#FF0000"> <!BODY BGCOLOR="BBDDEE" TEXT="#000000" LINK="0000FF" VLINK="#FF0000"> <! YELLOW !BODY BGCOLOR="#FFF8DC" TEXT="#000000"> <! Green ! BODY BGCOLOR="#ddFFdd" TEXT="#000000">

"From the Ponds"
Vol. 5 No. 1 – 18 January 2003 -

Western Pond Turtle- Main Page
From the Ponds Main Page.
FROM THE PONDS

The Bimonthly Electronic Newsletter of the Western Pond Turtle Project in Washington State

By Kate Slavens
FROM THE PONDS…
Editor: Kate Slavens
Vol. 5 No. 1 – 18 January 2003
Before the 2003 field season begins, it's time to recap 2002. We had a successful and interesting year. One of the best parts of a project like this is the opportunity to continue learning more and more about the species.
Trapping season started out slowly at the Skamania East site. It turned out the artificial basking rafts were preferable to the basking traps. Once the rafts were removed to shore, the turtles began finding the traps. A total of 189 turtles (24.23.142) were captured in Klickitat County, 52 (2.4.46) at Skamania East, 46 (0.0.46) at Skamania West and 23 (1.7.15) at South Puget Sound. This adds up to a grand total of 310 (27.34.249). Two hatchlings and one yearling were caught in the basking traps and we caught one more previously unmarked older female. All but one of the female turtles were fitted with transmitters (one was located during nesting) which resulted in locating 26 nests. Those nests yielded 75 hatchlings (38 at Woodland Park and 37 at the Oregon Zoo). We believe the previous year's draught affected the sizes of the clutches, but it was rewarding to see that the turtles still went out to nest. Three of the nests were from females at the South Puget Sound site, and although many of the eggs were fertile, we were still unable to hatch out the first live one. Two head-started females in the Gorge nested. As far as we know, we only lost one head-started juvenile apparently predated while walking back to the pond in the spring. With two of our "permanent" ponds drying up by July 2001, it was necessary for the turtles to find suitable survival sites and our trapping data proves they were successful. We know two of the little ones ended up in temporal ponds this spring, but then moved back to the permanent ponds, thus showing they learned more about the complex of ponds. It also seems the draught sent the old slider packing and in a strange way, we missed seeing her.
We released a total of 127 head-started turtles in 2002 for a new grand total of 620 turtles released to date. Our survival rate still holds at about 95% based on several formulas, which is very encouraging. The captive breeding program at Woodland Park Zoo produced 5 clutches of eggs and 6 hatchlings. The breeding population increased by one male and two females that were captured in the wild, so now there are three males and three females from western Washington to help populate the South Puget Sound site and possible a new site. We hope to choose a new release site in 2003.
A big thank-you to all the volunteers that helped make the 2002 season a big success. On the subject of volunteers, this year's annual meeting will be February 16 at 6:00 pm. Please RSVP at 206-542-6751 or kate@pondturtle.com. Yes, we have a new E-mail address. You can also use frank@pondturtle.com. Please make that change in your address book and come see our pond turtle section at www.pondturtle.com .
Kate Slavens
kate@pondturtle.com
www.pondturtle.com

---
---
Index

Go Top
---
---
Frank & Kate Slavens
P.O. Box 645
Lyle, WA 98635


To send Frank or Kate an e-mail, our addresses are: frank@pondturtle.com or kate@pondturtle.com


Pages first went up in October 1995.

Copyright &copy 1996, 1997, 1998,1999, 2000, 2001, 2002, 2003 Frank Slavens

---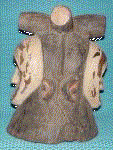 ---